It is always debatable, as it is purely ironic: Industrial Music's purpose was to set a new trend; a narrative clarifying the themes in modern society, by especially avoiding the stale rules or standards put in place by the forbearers. As its earlier forms (Punk etc.) blatantly failed to disassociate with the slave's blues (and hence the progressive purity of Rock) Industrial seems to have fed on its own tail, as it had been declared 'Anti-music'.
Truth is: whenever a person picks a guitar (whether plugged or unplugged) and pluck more than one –simultaneous- notes on it, it is bound to produce Rock 'n' Roll…
Well… sorry for the boring history (genre) lesson. But it had to be imparted; in an effort to comment or depict Dead Happy.
They are being called 'Freaky Disco Metal', the name might sound funny, but it does make sense! AND it would clearly help them to get out of the 'Industrial' tag or label. Their influences do seem to come from the music of Nine Inch Nails and Mindless Self Indulgence, but they run ahead and differentiate; maybe by a hair's breadth.
Dead Happy came into being around 2012, based in West Midlands, the dynamic duo Jason Oakley and Jamie Hough have been producing a unique blend of electronica and metallic mayhem.
Where Jason handles: vocals, keyboards and programming of music, while Jamie takes care of guitars and bass (also providing a hand on keyboards when needed)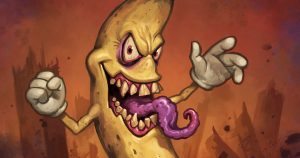 Along with freaky music, Dead Happy has the capacity of entertaining their audiences with complementing live shows (which defines their sound following)
They were signed by Coffee Jingle Records Label in the late 2014, and their debut EP 'Banana God' has been released on 31 January 2015, there are at least 3 different mixes of the song available right now, and it is a must listen for Rock, Metal, Party, Soundtracks' lovers alike.
So do check it out!
Band Links:
Website = www.deadhappyband.com
Facebook Page = www.facebook.com/DeadhappyBand
Soundcloud Page = soundcloud.com/deadhappy