Crunchy and crisp guitar tones with matching vocal depth, which is carefully infused with rhythmic riffs and soulful lyrics…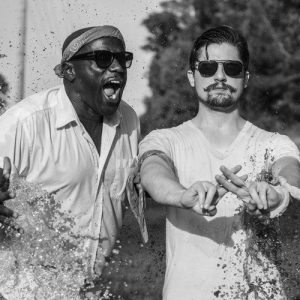 The Silver Comet has been visible in the music galaxy for quite a while now, although not as commonly spotted by music lovers. The only reason I could think of (for the lapse in our observation) is their experimentation with the genre; they seem to be gradually shifting from hard Alternative Rock sound to subdued Soft/Classic Rock (Covers of Beatles to Radiohead and then back again to Harder Sounds)
The interesting fact is that they do manage to shine brightly with the shifting style and experimentation.
The Silver Comet is the creative duo: Parry Kitt the main vocalist, and Dustin Williams who is providing the backbone in sound, through Bass, Guitar, and additional vocals. For the live gigs they include an additional set up; with Kris Rahming on drums, Enrico Catalino on guitars, Chani Maisonet and Julianna Smaltz on backing vocals and Kyle Kirkland on keyboards.
The band is based in Atlanta (Georgia) but they have been touring quite frequently (the latest gig in UK was only couple of months ago)
Out of all the songs I have heard so far, I can easily pick two favorites: first is the Beatles' cover 'Come Together' (picked from their Manchester live session, September 2014) they nailed the Beatles song with impeccable accuracy!
Coming from a live musical background, I can assure you that it is never easy to deliver with just one acoustic guitar backing a vocalist, but Parry and Dustin have done it well. The ability to perform with a limited setup also defines their musical maturity and discipline.
My second favorite song by The Silver Comet is their original studio recording 'Losing Your Mind'; it clearly defines their musical identity and intentions (influences and creative flow) which seems to hover between Soul and Alternative Rock.
Both music styles can be combined into a deadly combination; the emotional and high spirited calling of Soul and high driven energy of Rock 'n' Roll, and there is enough presence of both in songs like 'Dead Sea' and 'Losing Your Mind', a quality that can transform The Silver Comet into a Supernova.
I would love to hear more of it, and I am eagerly anticipating!
(Note: all of the above mentioned songs are available on the Soundcloud, Bandcamp and The Silver Comet's official website)