Well, whoever holds the opinion that 'Rock is Dead' should face the Motherfaster!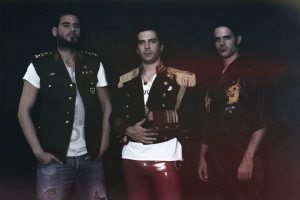 The above statement is a light in the dark for all lovers of heavy and pounding sounds of 'Heavy Metal' and Rock: from those who have had cut down their locks and cried in the night hearing Justin Biebers' being played over and over on the radio, to those who have sold their soul and taken the distortion pedals out of the effect's chain –to produced cleaner/lighter sounds- just to feed their (Sunday School going) kids…
Ironically, Motherfasters is producing the darkest music (in their genre) that I have heard in the contemporary acts so far. Their menacingly corrupting songs include tales of a wide range of insane realities: from topics like drug-sex-abuse to serial-rapists and laments-of and about-gods to underworld-gangsters.
Yeah, not the stuff for Sunday Schools…
Motherfaster is: a three piece 'Rock Machine', driven by the Ozzy influenced vocal antics of Paminos (who also holds the Bass guitar) with Bill fanatically rendering riffs after riffs; that could put smiles on Toni Iommi's face, and then they have Jim thrashing drums -while keeping the trio steady at the same time. The trio is (surprisingly) from Athens, Greece. These three got together in the fall of 2011, and after some initial experiments (and around a dozen gigs during 2012, 2013) they took the applause of their fans seriously, and conjured up a studio album (March 2014).
In November 2014 they released the first single 'The nymph and the god' which was featured in the compilation CD Fear Candy No 138, that comes with Terrorizer magazine (Issue 254) along with some other existing bands.
It is needless to say, but the moment you play Motherfaster, the first thought that hits you is: "Oh my god, this is the rebirth of Metal…"
If I hadn't been keeping an eye on the aging monsters of Black Sabbath, I would have mistaken Motherfaster for their pseudo name. Motherfaster has got the same musical chemistry going, only with a refreshed and original zeal.
Their sound ranges from Hard (Blues oriented) Rock to Heavy Metal, very much into pioneer's style, and the feel of it tells about the varying influences of Sabbath, Pantera, Judas Priest and even Black Label Society at times.
My favorite pick is 24/7 (the song about Mafia Guy) with its in-your-face attitude. So far Bill has impressed with his guitar chops, but I would love to hear him using less takes/layers during guitar solos.
In conclusion, Motherfaster gets thumbs up from me; with a middle finger attached to it…
Links:
Motherfaster Official Website
Motherfaster on ReverbNation