The Regulars certainly have the unique blend and characteristics of big bands: they have elaborate compositions, bigger sound (due to the clearly organized instruments), and groomed vocals –especially harmonies- and above all, band members seems to be enjoying their respective instruments and jobs. Hailing from an extensive 'Band forming back ground', I can assure you that a members sharing a passion for their dedicated parts in a band, is more than often 'The Decisive Element' for band's success.
The Regulars are based in Atlanta, GA. The siblings Lee and Lindsay Smith hold the combined Lead Vocals spot, but the band seems more centered and arranged around Lee's rhythmic piano. I am most impressed with the tight rhythm section and well-crafted electric guitar sound that keeps up with high range vocals of Lindsay and melodies lines of Lee.
Although, The Regulars are labeled as a Funk band, I would consider them more than that. Here I would go back to the 'Big band' attitude that I mentioned earlier: going through the available songs and considering the rhythm section first, the drummer Elliott Phillips is not trying to do anything extra while he keeps a very tight and dynamically pure beat (a good sign for any live band) while the bassist Clay Davis's concentration never drops! To have a bassist who is innovative and who doesn't bog down just for the groove's sake; is just like icing on the cake (best sign for a live band).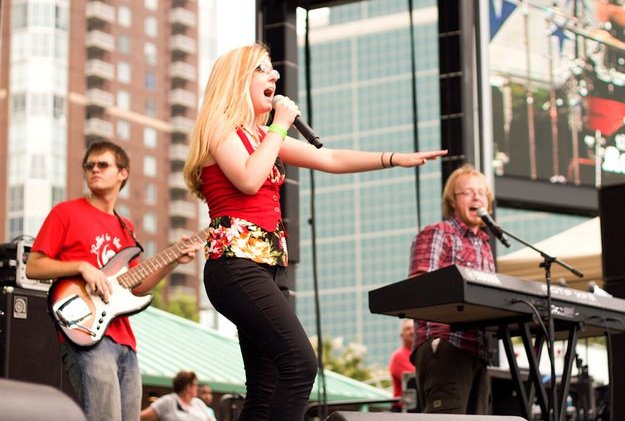 Douglas Ehlen electric guitar immediately brings back the tonal memory of late 60's. With a guitar sound that reminds of the late Larry "Rhino" Reinhardt (Iron Butterfly) it is refreshing to see a 'Band oriented' guitar player who is not dying to come up with a killer guitar solos while producing some 'Alienist' tones, out of myriad effects and absurdly 'Technocratic' amplifiers (great sign for a live band).
I haven't seen Lindsay Lee's great dance moves yet (the official compliment about her) but she does impress with her in-tone and well trained vocals. Out of the entire band, she seems more of the 'Funk' lover, as it is very evident in the song 'Mother Funker'.
The Regulars lead by Lee Smith have just released their new album 'Spectacle', and it's available now on itunes…