Although perhaps not for everyone, there can be no argument about Christian rock being synonymous with feelings of love, hope and support. This is very true in the case of Second Chance Rising, the most recent band to emerge from the American South with a very succinct message to share.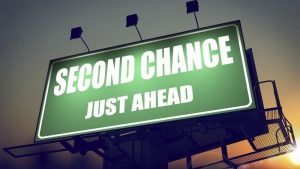 I'm not sure about anyone else but as someone who used to be an avid follower of 00s American rock bands such as Matchbox Twenty, I found it quite a pleasant surprise to be reunited with this sound in Second Chance Rising. The melodic harmonies of the guitar combined with a distinctly 'old school' rock persona certainly make for an uplifting message being sent to the listeners. This is of course alongside a very clear religious resonance, which is undoubtedly the directive of the band's set up, which some people may chose to take or leave if they are just interested in the music itself.
Along with the warm rock feel that Second Chance Rising offer us with their four-track EP, there is a distinct air of melancholia which becomes all the more apparent by the third and fourth songs Celebrate This Life and Cancer Sucks! Furthermore, it sadly turns out the band's manager and vocalist Ray Oubre has experienced the cruel reality of being diagnosed with cancer and becoming aware of this makes the message about turning to religion and making the most of life all the more prominent for those who connect with the sincerity of the music.
Regardless of whether or not you connect with the religious message of Second Chance Rising, there can be no doubt that their take on Southern American rock is a type of music you can 'turn to' when you're feeling down, in the same way people often turn to religion. Therefore, I would go as far as to say that the band are successful in their aims and will surely appeal to the hearts of many who have experienced tragedy in their lives by spreading their uplifting message of hope and faith.