It's sexy! Not the pretty polished back street boys sexy, but the real deal; if you know what I mean, wink, wink.
If (you think) your musical taste is slightly mature, then, you might play it once and move on to some other links about n-sync reunion hoax. But, Jagged Little Thrills are like the 'hot mama' you may not notice at a mere glance. Don't be afraid! Take another look, play the songs once again, get over the numbness of cheesy songs you have been hearing till now, and you will be bulldozed by the voluptuous raw energy floating to –and through- you.
Well I -might- acknowledge, the vocals may not pass the tuner test (or guitars might go off tune/tempo) here and there. But, when was the last time you heard such raw and energetic voice? I can't remember anything like this; it's been a long, long time.
Like every –meaningfully- successful rock act Jagged Little Thrills are a strange mix, the stability of Tom Wright (bass) and 'Late Night' Rob Gray (drums) is providing a hot platform for the searing vocals of Thomas Wright (vocals) and, Dave Vegas and Matthew 'Weg' Wetherill's combined beefy guitar chops.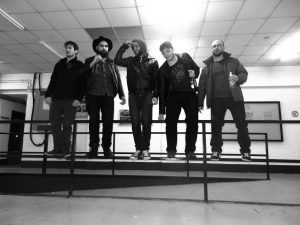 Reportedly, these five friends got together in the early 2014 to put forward their own blend of Punk/Indie/Rock sound, and it seems that they manage to get it right. It didn't take them long to establish in the big league, right from the start, when they performed in a little pub in Northampton back in the early 2014. The inspirations are quite wide: from Nirvana to The Clash and from Queens of Stone Age to White Stripes.
It is no wonder that renowned producer Alan Emptage (who has worked with artists such as Adam Ant, Eric Clapton and Skunk Anasie) will be working with them on their first EP (starting early 2015)
I am already addicted to their single 'Streets of Berlin', as I look forward to hear a 'Big' and thrilling complete album from the Jagged Little Thrills. I just hope it comes out sooner!
Check out Jagged Little Thrills on Facebook – www.facebook.com/Jaggedlittlethrills