Always a fan of musicians that broaden their horizons to let their music spread to a wider audience, I was very happy to be introduced to new Swedish rock collective, White Limo, with their inviting mix of melodic rock and unpredictable tempos.
Of course, you must recognise the intentional link of their band name to the world-renowned Foo Fighters song. This is no accident, especially with their sound teaming with inspiration from the Foos, along with very noticeable hints of Queens of the Stone Age and Biffy Clyro. This, as you can imagine, is no bad thing and this stimulus, combined with White Limo's unique and impressive range, leaves you not knowing what to expect next.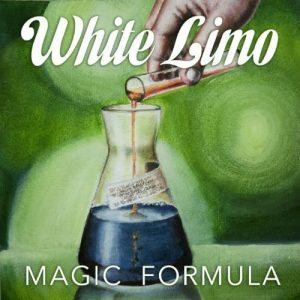 The opening track on the 'Magic Formula' EP entitled Winter Rain, is definitely a commendable choice to draw listeners in with it's subject matter juxtaposing the upbeat tone in the style of modern day rock bands such as Imagine Dragons. Our introduction to White Limo's talent begins here with an enticing play on tempo that definitely leaves people like me wanting to hear more.
The next track Girl on Fire is another song I would predict as a popular choice for fans, drawing you in with an instantly catchy riff, leading through some lighter melodies and building to a more powerful chorus. This track, for me, really underlines why they consider themselves much more rock than indie.
The next two tracks Horizon and Black Roses really take you on a bit of a nostalgic train of thought back to 'the noughties', with that focal point of the bass guiter that is widely recognisable to those of us who grew up listening to rock in this era. Then low and behold we're back to the modern day with that last track on the EP, Daylight, and the band once again show us why they are strong contenders to the new strain of melodic rock that has emerged in recent years (which also, of course, incorporates the most influential elements of past inspirations).
I think rock fans would be advised to take note of White Limo, as I have no doubt they will be hitting the mainstream at a rate quicker than they can have ever predicted. And good luck to them!