Imagine a singer/performer carrying around a grand piano or a cello as accompaniment, while he drifts from town to town, singing melodies and narrating great tales of future and past; not a really sexy picture, right?
On the other hand, a guitar has always been a comfy and reliable tool for story-tellers; 'Shoot the Duke' is a valid example. Simply put: It's just two friends playing guitars together, as they pour their hearts out….
Boosted with large guitar sounds, their music slowly gets you moving, as you are drawn in by the groovy rhythms and catchy lyrical ideas. The musicians in this dynamic and nifty entity are: Tommo Bryan and Neil Cripps, both of them are relatively young but immensely talented and mature. Their coherence is evident in their musical taste and in their lyrical concepts, as well.
Like any other folk/pop/acoustic rock outfit 'Shoot the Duke' is producing raw, clear, and straightforward vibes; with lots of room for improvisations. Their influences range from Ed Sheeran to Jamie T, Passenger and Johnny Cash. It is clearly evident that they want to keep the old and new inspiration together.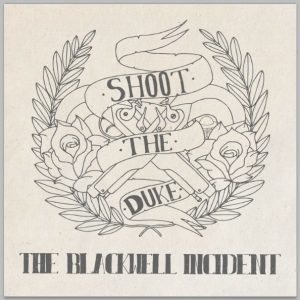 Their first single 'Top dog' (released in early 2014) made it to the top five slot and it was also broadcasted on BBC Radio 6 Music.
'Shoot the Duke' also won the 'Change Tracks Battle of the Bands' in 2014. Shortly after winning the competition they completed and released their four track EP 'The Blackwell Incident' and afterwards toured the circuit with fellow folk artists.
Out of the four songs on the EP, 'Top Dog' has generated the biggest following. The springy rhythm and well-crafted lyrical poetry reminds one of the late 70' folk-progressive-rock movements, a bit low key Robert Plant or ELP, if I must say. The song is about simple pleasures of 'Modesty', and how to stomach success without losing yourself in the glitter and dime.
The full EP (The Blackwell Incident) can be heard streaming live at: soundcloud.com/shoottheduke