Best of Enemies is a four piece band from London. Although the energetic four haven't been together for too long they are already playing to packed fanatic crowds, their debut single "Brother" was released in July 2014. The press has taken heartily to the band, and it is already being nicked as 'the new face of English Rock'. Considering their relatively new arrival, it is a big achievement.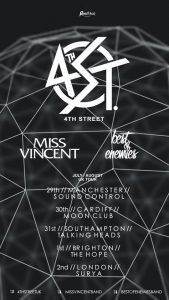 I just went through the debut EP 'Stay Young, Trust Me' by Best of Enemies: the first thing that rings through my mind is that it must be a real worth listening to them live. Not to say that they are any way behind when it comes to studio recordings, the EP is very skillfully created and the production is on par with any modern outfit.
The four tracks presented on the debut EP are full of interestingly carved professional pegs, for example; all the songs are upbeat (which is a must to entice younger audience). There are some great harmonies supporting the lead vocalist, and especially the chorus part is well designed for a great sing-along, pretty clever!
The first song on the EP, 'You are a Good Mate, Really' is a brightly packaged song about the bond of friendship. Second song (Ignorance is Bliss) is a dark –darker- but energetic piece about mindsets of neglected youth; nothing could be more appropriate for a youth oriented output. Third song 'Hope and Dreams' is again a collective mantra about the fancies and disappointments of youth, and the fourth song (Wasting Away) is just a personalized anecdotal version of the 'Hope and Dreams'.
The rhythm section is punchy and stable, and the best thing about Best of Enemies is the singing of the lead vocalist Sam Christmas, he is absolutely on the tune and his -delivered to perfection- vocal dynamics tell me, that Best of Enemies have quite rightfully started fast, and they are here to stay long!