"I won't waste my time on you…" is a key lyric from Call Me When You're Famous' song Dirty Little Secrets. One thing you should spend your time on is letting your ears sup on their punchy hook-laden sound.
Dirty Little Secrets is the first single from the band's Organised Chaos EP and I think it's a promising taste of the kind of music they are capable of producing. The band has a crisp and large sound with that punchy pop punk flavour that worms into your ear and forces your mind to repeat little tidbits of lyric over and over, particularly the chorus. The vocals are strong enough to easily ride above the high-tempo accompanying music, the other instruments distinct yet all coming together with a seemingly casual ease. I'm not a great fan of punk bands that mash everything together into a cacophony. Call Me When You're Famous are safe from my scorn in this respect.
I always think that it's nice when a punk band looks like they're enjoying what they're doing, rather than swimming in a sea of angst. Call Me When You're Famous' Dirty Little Secrets video certainly looks like they had fun making it. They put a call out to any fans who wanted to join them, provided free beer and made excellent use of a bouncy castle…what more could anyone want?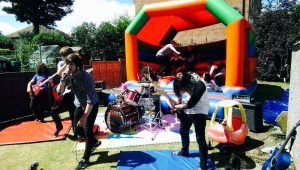 The six-piece band from Leeds has created a fast-paced song with easy to listen to lyrics and a style that would easily complement any activity taking place in the summer sun, be it driving, bike riding or…bouncing around on an inflatable castle in someone's back garden.
Check out their Facebook page to keep up to date with what they are up to and where they are playing next. They interact with fans regularly so they should be applauded for this.