Having left the forces in 2011, Josh Clarke decided to dedicate his time to learning the guitar, a decision that would soon transform his life and how he apparently spends 100% of his time.

After being denied any possible combo of the words "Josh", "Clarke" and "music" for a YouTube channel name, the online video site threw out a list of alternative suggestions, one of which was remedysounds. And so the story behind the name is as simple as that. Since then however it has provided a name for a character that Josh becomes on stage calming his nerves and say things he wouldn't otherwise say…
Josh and his friends alike may agree that he is strongly politically opinionated, outspoken on social justice and greed. He now tries to channel these messages into his music as he aims to subliminally plant his ideas whilst playing music that isn't acceptable if it isn't perfect. That is to say Josh is a perfectionist, but this shouldn't be taken as a negative as his enthusiasm is unrelenting and inspiring.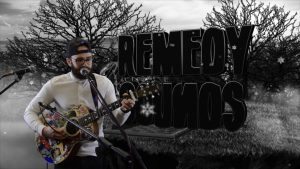 The future is looking bright for Remedysounds, in the last few years he's played countless gigs and festivals, including his highlight last year at Portsmouth's Victorious Festival and an offer to go straight to the X-Factor Live Shows, which it should come as no surprise that he turned down.
Now working to complete a 10-track album, you can look forward to hearing more from Remedysounds all over the UK in 2015.