At the tender age of just twenty years old, it is safe to say that Brook Jazz Lawrence's star is definitely rising…
…especially with the impending release of her first single 'Feel the Fire'. Of course, she's not the first young star attempting to share her music with the world, nor will she be the last. So what exactly is it that makes Brook and her breakthrough single stand out from the crowd?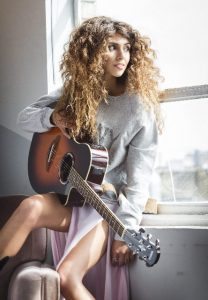 Firstly, the stand out factor for me is that, having been born and bred into the world of music at an incredibly young age, Brook actually writes her own music. With the world of pop in the state that it is in this day and age this is something of rarity, not to mention incredibly refreshing. She also happens to play the piano and the guitar so fans of her music can definitely expect to hear some unique all-encompassing hits in the next few years.
The single itself 'Feel the Fire' displays a level of production which transcends really nicely to the pop music of this day and age, especially combined with Brook's 'soul meets pop' style of vocal. At the same time, it is also actually very reminiscent of American 00s pop that Brook might have grown up listening to such as Michelle Branch and Ashlee Simpson. This atmospheric heartfelt style of pop music has noticeably made a departure from the scene in recent years to make way for more band ensembles and soulful solo singers. However, it can definitely be argued that there is room for a comeback. It certainly hasn't gotten any less catchy that's for sure. And if anyone is going to be the one to reintroduce it, I can certainly see Brook Lawrence leading the way.