If you are a fan of instrumental albums that feature guitar strings beautifully manipulated into producing notes that float and dance in the ear, you would be very wise to check out Chand K. Nova's music.
A self-taught multi-instrumentalist, Chand has created a tremendous E.P called The Solar Bliss, five tracks that revel in all that is great about the guitar. If you are a fan of the Carlos Santana school of guitar-based melody, Chand will certainly put you in mind of Carlos.
The title track "Solar Bliss" features sweeping guitar notes and a nice moderate pace, the odd note ending in distortion but nothing to distract from the rhythm. In a number of places, the backing notes die down and Chand unleashes his guitar, letting the notes climb and fall in a relaxed and entertaining manner. This is a common theme amongst all of the tracks on this E.P, the guitar tickling taking the place of where a traditional chorus might be.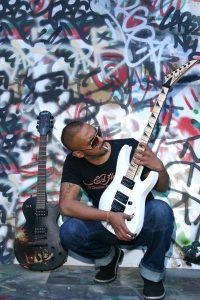 "China Man Blues" is another great track, the early plucked guitar notes soon moving into lots of vibrato as the slow beat carries it all along. "Zetetic" is a more melancholy track that has all the qualities of the end credits after a film in which the happy ending didn't quite pan out as people had hoped. "Trouble in Paradise" is another track that made me think of TV or film, its ominous heavier undertones and distortion making me think of criminals about to do a heist. That tone did seem to shift later in the track however, the feelings turning to the prospect of things being resolved. The final track "Daydream" is a good track to end the album on with a punchy beat and a slightly heavier sound brought about by distortion and a more prominent use of the drum cymbals.
I must admit that I am more a fan of the heavier use of guitars but Chand's music is such a chilled and pleasing listen that it makes me wonder if I shouldn't have looked into this more mellow kind of guitar music sooner. You can check out Chand K. Nova on his ReverbNation page here where you can also listen to his other songs.